Higurashi no Naku Koro Ni
One of the best horror/psychological/mystery anime that has been created!
I really enjoyed this series because one, it is a seemingly moe anime with lots of girls and one guy[ Clannad-ish eh?] but in every Arc, you'll find your heart beating with horror because of what happens in Hinamizawa
manga cover [note: the manga came AFTER the anime. It is based on a Visual Novel by 7th Expansion][/size]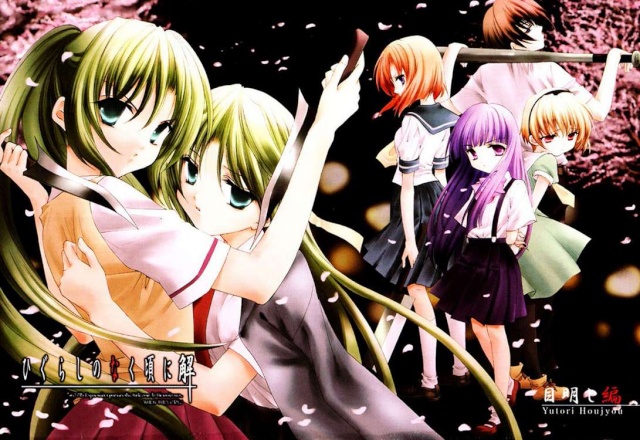 Characters:
Green Haired Twins:
Mion Sonozaki (ponytailed)- a tomboyish 'tsundere' that has a crush on keiichi but is afraid of the idea that keiichi sees him as a boy
Shion Sonozaki- Mion's younger twin that was sent to a boarding school while Mion is in Hinamizawa, studying to be the next Sonozaki heir.She is much more feminine than her twin.
Blue-haired girl:
Rika Furude- a polite young girl who is known thoughout town as the Furude heir. Her famed cathphrase is "Nipah"
Red Head[orange]:
Rena Ryuugu - a very energetic girl who loves cute things and says she "want to take it home" [omochikaeri!]. She's very cheery and adores Keiichi a lot
Short-haired Blond:
Satoko Houjo - the most mischievous of the group, she is known for the pranks and traps she sets in the games and club activities they do in school. She lives with Rika.
Brown-haired Guy:
Keiichi Maebara - the new guy who moved from the city into the small town of Hinamizawa. Because he is the oldest guy in his class [which is a mixed class of different grades - maybe it's a poor town] , the younger boys are afraid of him. So Mion (which is a year older than him) offers him her friendship and an invitation for him to join their 'club'
>> produced by StudioDEEN[jigoku shoujo, sitokai no ichizon,etc.]
Last edited by hazuri on Sun Jun 06, 2010 11:39 pm; edited 1 time in total